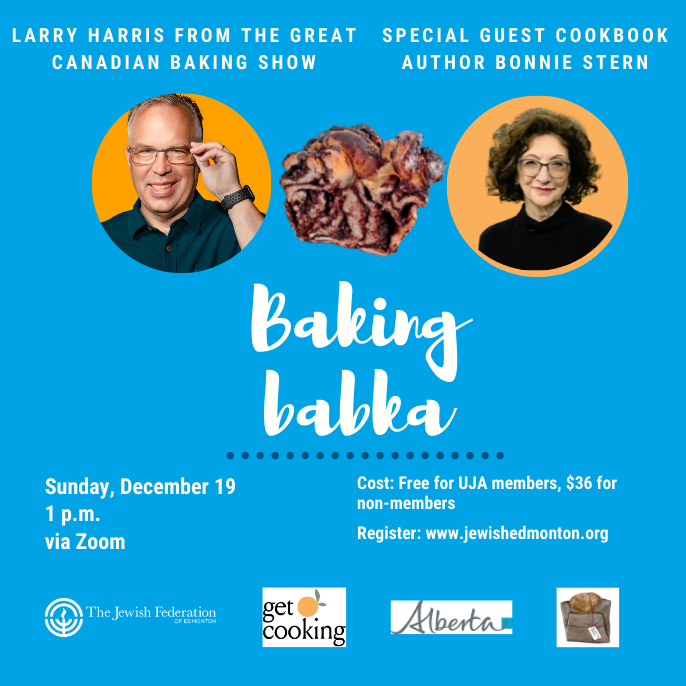 The Jewish Federation of Edmonton invites you to learn how to bake babka with Larry Harris and special guest cookbook author Bonnie Stern.
Larry is an enthusiastic baker who has been tackling Great Canadian Baking Show bake-alongs season after season. He loves to challenge himself by regularly trying new techniques while also perfecting his signature sourdough. Larry is a proud husband and father with a never-ending string of dad jokes that brought giggles to the baking tent during season four of CBC's Great Canadian Baking Show. He is the owner of Bonne Vie Bakery and teaches classes through Get Cooking Canada.
Bonnie has been showing Canadians how to make cooking meaningful, delicious and fun for over 40 years.  Bonnie is the award-winning author of over a dozen cookbooks, she has hosted three national television shows and wrote a weekly food column for the National Post for 17 years. She leads culinary tours to Israel and owned a beloved cooking school and cookware shop in Toronto from 1973 to 2011. Bonnie was recently inducted into the Taste Canada Hall of Fame. Her new cookbook, Don't Worry, Just Cook, will be out September 2022.
Sponsor: Jewish Federation of Edmonton, Government of Alberta